Il satiro e il contadino
Jacob Jordaens (Anversa 1593 - Anversa 1678) seguace di
The Satyr and the Peasant
(from Aesop, Fables, LXXIV)
Jacob Jordaens (Antwerp 1593 - Antwerp 1678), Follower of
Oil on canvas
68 x 62 cm.
in frame 97 x 90 cm.

We offer you an interesting painting, the unusual subject of which is inspired by Aesop's fable 'The Satyr and the Farmer's Family', elaborated in various models by the great masters of seventeenth-century Dutch painting, and in particular by Jacob Jordaens (Antwerp 1593 - Antwerp 1678), who delighted in re-proposing it in numerous variants, thanks to his vigorous and typically Flemish painting style.

Jordaens is in fact considered a master par excellence of the Golden Age of Flemish painting, favouring, as we can perfectly see in these particular compositions, the use of scenes from everyday life in Flanders during the 17th century as a theatre for the illustration of old popular proverbs.
The fable tells of a satyr who, on a winter's day, saved the life of a peasant lost in a snowstorm and became his friend. As a sign of gratitude, the farmer invited his new friend to share a dinner with his family.
For Aesop, the moral value of this fable was to be wary of men, often ambiguous, who obtain heat and cold with the same tool. In practice, they are duplicitous or false and often have contradictory actions.
Our work is inspired by one of Jacob Jordaens' paintings, one of which is now in the Musées Royaux des Beaux-Arts de Belgique in Brussels, made by the master around 1620, and of which there is also a valuable engraving by Lucas Vorsterman I in the British Museum in London (
https://www.britishmuseum.org/collection/object/P_1873-1213-588
) from which our author must have naturally drawn inspiration [1].
In particular, our beautiful canvas, an interesting version that can be placed between the 17th and 18th century, denotes an excellent quality of execution, as the photographed details we present here demonstrate.
It presents an analytical painting both in detail and in the rendering of the characters, and the expressive strength of the rendering of the faces, among all that of the satyr, is worthy of mention. The theatricality of the scene, on a par with Jordaens' prototypes, is underpinned by the vivid, intense and brilliant colours and the strength of the light that irradiates the characters.
[1] Other versions are
imm.1 Lucas Vorsterman I, British Museum, London, Satyr and peasant, ca. 1621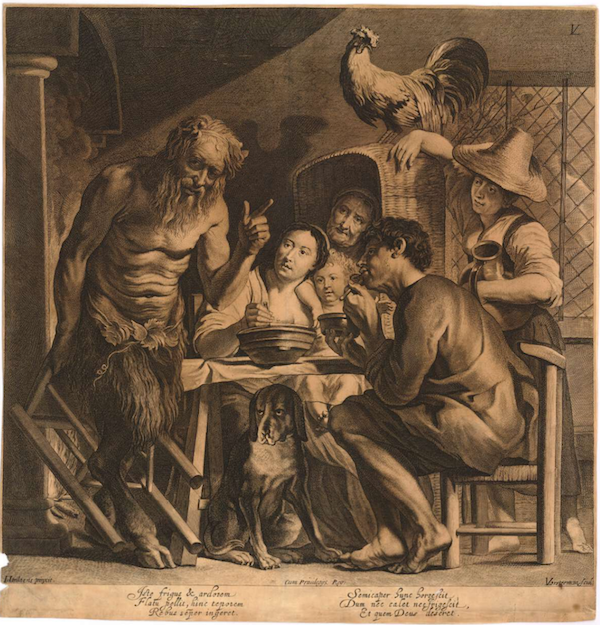 ADDITIONAL INFORMATION:
The work is sold complete with an attractive wooden frame and is accompanied by a certificate of authenticity and descriptive iconographic card.
We take care of and organise the transport of the purchased works, both for Italy and abroad, through professional and insured carriers.
Contact us for any information, we will be happy to answer you. You can also see the painting in the gallery in Riva del Garda, we will be glad to welcome you and show you our collection of works.
In case of purchase of the work by non-Italian clients it will be necessary to obtain an export permit, which takes about 10/20 days, our gallery will take care of the whole phase until it is obtained. All costs of this operation are included.
Follow us also on :
back